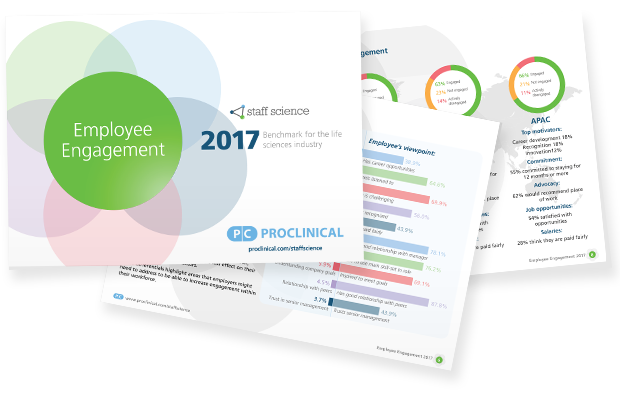 Benchmark engagement in your organization against the wider life sciences industry and discover how you can improve it.
Engaged employees demonstrate an emotional commitment to their organization, giving a greater amount of discretionary effort. A highly engaged workforce leads to increased productivity, reduced staff turnover and a stronger employer brand that helps to attract new talent.
Proclinical surveyed over 1400 people working in pharmaceuticals, medical devices, biotechnology, contract research organizations and other life science companies globally to benchmark the level of engagement among employees in the industry and to find out what motivates them at work.
By downloading the employee engagement report you will gain:
Information to benchmark employee engagement in your company against the rest of the life science industry
Trend analysis that uncovers what employers in the industry are doing that is working and things that they need to improve
Insight into what employees believe to be the most effective drivers of their engagement – and how their employers perform against them
Demographic breakdown of the engagement levels and motivations by gender, age, length of service and seniority
A breakdown of data by geographic region and company type, including pharmaceutical, biotech, medical device, consultancies and CRO/CMOs.
Employee engagement survey questions to ask your employees.